The Bookclubs development team has been busy this summer! Check out some of our latest updates to book shelving, book reviews, and club settings. These improvements are based on your feedback, with many originating from suggestions in our annual user survey!
New and improved: Seamless organization for your club's books
One of the best things about using Bookclubs to organize your book club is to easily track what your club wants to read, is currently reading, and has read in the past. New updates to your club's bookshelves make that easier than ever.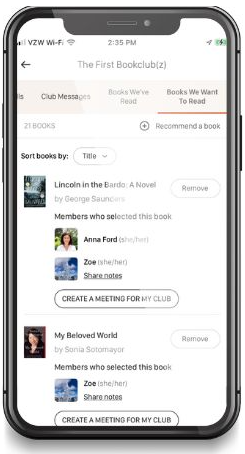 You can now:
Sort your Books We Want to Read shelf by number of members that have recommended the book to your club! Choose the "Most Recommended" option on the Sort books by dropdown to see which books have been suggested by the most members
Easily attach a book from your Books We Want to Read shelf to a new club meeting! No need to search for a book from the meetings tab, just click on "Create a meeting for my club" underneath the book title
We've also fixed some bugs that should ensure that any book your club schedules for a meeting gets automatically taken off your Books We Want to Read shelf, automatically shows up on your Currently Reading shelf once it's time for the meeting, and automatically gets moved to Books We Have Read once the meeting occurs.
New: Spoiler alerts in book reviews!
Spoilers in your book review? Don't worry about ruining the ending for someone else! Just check "This review contains spoilers!" when writing your review and it will be covered by a Spoiler Alert button for other readers (if you see a spoiler alert review, just click on the button to reveal the review).
New: Choose how many meeting reminder emails your members get before your club meetings
Club admins can now decide how many email notifications members will get when a club meeting is created. You can toggle on or off any of the following meeting notifications:
Initial meeting notification (when the meeting is created)
Reminder 1 day prior to the meeting
Reminder 1 week prior to the meeting
Reminder 2 weeks prior to the meeting
Reminder to RSVP
Improved: Additional club settings for admins
Head to your Club Settings for even more control over who in your club can do what! In addition to determining who can create meetings, start message threads, post polls and add to your Books We Want to Read shelf, you can now set permissions for who can:
Add books to your Books We Have Read shelf
Upload documents
Upload photos
Create photo albums
Let all club members upload and contribute, or for a more secure book club, restrict these activities to just the club admins. (To control who is an admin for your club, head to the club's Members tab).
We are always eager for feedback on how we can improve the Bookclubs site and app. If there's a feature you think is missing, or something that would help your club, reach out to us anytime. We incorporate user feedback into updates to the site and app frequently, and we'd love to learn more about how we can make Bookclubs even better.